eTranzact Ghana Limited, a leading financial technology entity at the forefront of delivering cutting-edge innovation in the electronic payment space, has been adjudged the Leading Fintech Solution Provider of the Year, 2022, at the second edition of the 'Ghana Fintech Awards', held in Accra.
The brand further consolidated its leadership position in Ghana's Fintech Industry by winning the Fintech & Bank Partnership of the Year, and the Fintech Innovation Company of the Year.
The awards were in recognition of the company's work and commitment to ensure excellent service delivery across the business eco-system in the country as well as continuous investment in infrastructure and a renewed focus on customer experience.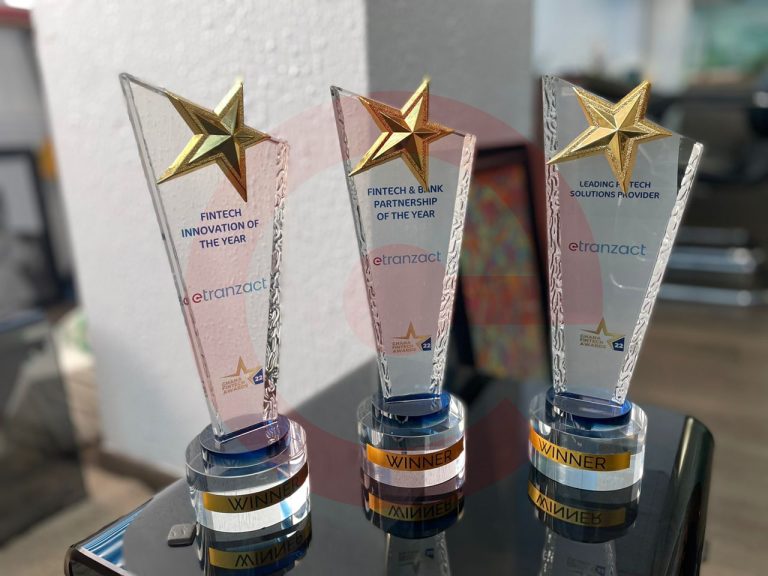 Executive Director of eTranzact, George Babafemi, in his address on receiving the award, expressed his to the organizers for the recognition of the hard work and commitment made by the company over the years toward universal financial inclusion and transformation of the business ecosystem.
He said, "as pioneers in the fintech industry, providing bespoke electronic and convenient payment solutions is the firm's greatest asset.
As a company, we thrive in ensuring we provide to customers secure, convenient, and cost-effective means of receiving or making payment, buying airtime or bundle as well as paying bills, etc at the comfort of their homes and provide tailor-made solutions to suit an organization or individual's electronic need.
This is a great feat for eTranzact, and we are extremely thankful to our customers and colleague workers for giving us a reason to still be in business after all these years. Indeed, being recognised by your peers is a great honour," Babafemi added.
Chief Executive Officer, eTranzact Ghana, John Apea, also commenting on the award said: "We dedicate these awards to our customers, clients, partners, and staff for their unflinching support and commitment to eTranzact. We will continue to work hard to provide relevant digital platforms that are cutting-edge, secure, and convenient".
The second edition of the Fintech Awards, organised by the Ghana Fintech and Payment Association (GFPA), was held in Accra to reward and recognize Ghanaian companies that are contributing immensely to the development and transformation of the fintech space in the country.
GFPA has been established to be the voice of the players in the financial technology space, working to transform citizens' lives in Ghana and beyond while serving the last mile.
It seeks to be a unique fintech and digital payment services association of its kind in West Africa and one of the few dedicated platforms for Fintech companies in Ghana and by extension, Africa to connect with potential investors, partners, and clients.
The Association thrives to bring the best in FinTech companies across the continent, supporting each other's growth and helping to forge lasting relationships with international financial institutions, corporates, and retail consumers.