Electronic payment and services provider, eTranzact Ghana Limited has presented a cheque for GHS5,000 to The Citi FM Foundation to support the station's plans to construct a 30-bed girls dormitory for the Baptist School Complex and Orphanage (BASCO), at Trotor near Suhum in the Eastern Region.
The donation forms part of the company's Corporate Social Responsibility (CSR) activities.
Management and staff of eTranzact Ghana made the presentation at the premises of Citi FM on Thursday, April 22, 2021.
"At eTranzact, we do not take these things lightly. Businesses are not just set up for profit. Businesses are also to touch lives. Based on the foregoing, we brought the GHS5,000 to support Citi FM's project and encourage the station to keep on touching lives," Kofi Pianim, the General Manager for Financial Services at eTranzact Ghana said.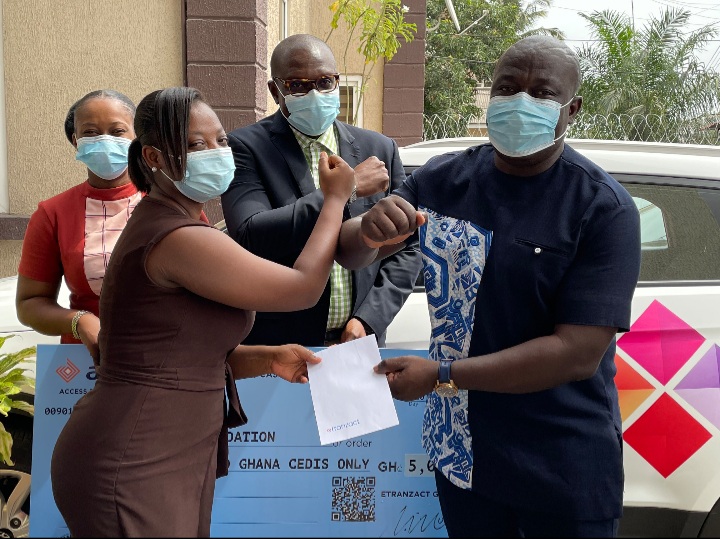 Business Development Manager for Citi FM/Citi TV, Omane Mensah Bonsu, who received the donation on behalf of the station, thanked eTranzact for the kind gesture.
He used the opportunity to reach out to other benevolent individuals and organizations to also support the project being undertaken by the media house.
"On behalf of the management and staff of Citi FM and the Citi FM Foundation, I would like to thank you for this donation. We will use this money for the cause it was donated for and we also urge other companies to do the same," he encouraged.
eTranzact Ghana Limited was established in 2006.
The company provides leading and top-notch service delivery in Ghana's electronic payment sector.
Dormitory project
The BASCO girls' dormitory project is expected to commence soon. The orphanage is also a private school complex and is home to about 80 orphaned children, the majority of whom are boys.
However, it can not, as yet, admit girls because it does not have a facility to house them.
The Citi FM Foundation is therefore seeking the help of its cherished listeners and viewers to assist in this noble cause.
Contributions can be made to the Mobile Money Number 0550 900 006.
Cheques should be written to: THE CITI FM Foundation. Alternatively, donations can be made at the front desk of Citi FM and Citi TV, behind the Adabraka Police Station, in Accra.